The Model Millionaire
Attempt a critical estimate of  The Model Millionaire Oscar Wilde was an eminent novelist and short story writer of the 19th century, "The Model Millionaire" is one of his best short stories. The following are the important points of the story.
Hughie Erskine and his financial condition- Hughie was a handsome and attractive young man of London. He had every accomplishment except that of making money.
The Model Millionaire Analysis
He did everything to tear money but he could not succeed anywhere. So Hughie was a disappointed and frustrated young man and led the life of a vagabond.
Hughie and his beloved Merton-Hughie loved Merton, the daughter of a retired Colonel. Merton adored and worshipped him and was ready to do anything for him. They were the utmost attractive couple in London.
The Colonel was very fond of Hughie but considering his financial conditions he said that he was prepared for the marriage of his daughter with him only when he had ten thousand pounds of his own.
Summary of The Model Millionaire
Hughie and his friend Alan Trevor Hughie had a friend whose name was Alan Trevor. Trevor was a painter and artist. Hughie went to meet his friend and found him at work in his studio.
He was putting the finishing touches on a wonderful life-size picture of a beggar man. The beggar himself was standing on a raised platform in a corner of the studio. He was a very old man and his face was extremely miserable. Hughie felt pity for the miserable condition of the old man.
Hughie and the old beggar-After some time Trevor went out to talk to the frame maker. The old beggar sat on the bench. He looked extremely helpless and miserable. Hughie wanted to help him.
The Model Millionaire Theme
He felt in his pockets to see what money he had. He found a sovereign and some coppers. He went to the beggar and gave the sovereign to him. The old man was startled and a faint smile appeared on his lips.
A great relation -Trevor arrived and Hughie went out of the studio. He met him again at the club on the same night. Hughie wanted to know whether he had finished the picture of the beggar man. Trevor replied that the picture had been finished and framed.
After that Trevor remarked that he had revealed everything about his life (Hughie's life) to the old beggar. Hughes became curious to know about him.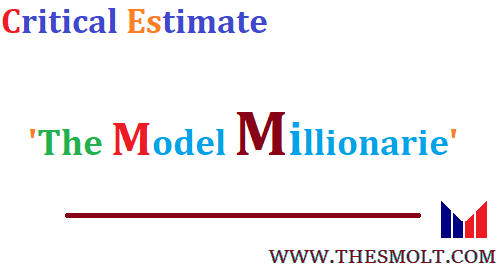 Trevor replied that the old man was Baron Hausberg, the richest man in Europe. I wanted to be painted as a beggar. Ilughie was surprised and shocked to think that he had offered a sovereign to the richest man in Europe.
Attempt a critical estimate of  The Model Millionaire
The marriage of Hughie and Merton – The next morning a man on behalf of Baron Hausberg came to meet Hughie in his residence. The man extended a sealed envelope. On the outside was written.
"A wedding present to Hughie Erskine and Merton from an old beggar" and inside was a cheque for pounds 10,000. Hughie was happily married to Merton.
END
I hope this article will help you. If you have any questions about us and our Website. Here you can learn all types of summaries and Analyses with user-friendly language. Here we also provide all types of programming languages. If you're interested please read from here and Explore yourself in the Field of  Programming, Nowadays programming is the most valuable thing about our upcoming Generation. I hope you will understand and You are free to tell us your Opinion.